"Convenient" and "safe" contact lens medical care
6 features of our clinic
We also focus on contact lens medical care to be more convenient and familiar. Here are the 6 reasons why our clinic is chosen by many contact lens users.
Have you concerned about the vision even though you got prescription at an ophthalmologist ? All of our doctors are eye specialists. ORT would also perform eye tests if it is necessary. Please feel free to contact us, if you have any concern about the contact lenses or eye condition.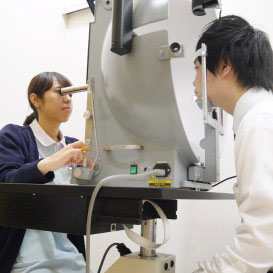 What is ORT?
They are called "Orthoptist" and certified by Minister of Health, Labour and Welfare.
They give trainings to correct eyesight and perform examinations to the patients who have problems with binocular visual function.
They perform many examinations including visual acuity, eye pressure or visual field test and then provide the data to doctors.
They support ophthalmologic medical care with technical examinations and trainings.
We would give you trial lenses with the prescription so that you can try them at home.
We have various lenses such as color, toric and biofocal, and you can try until you find a suitable one.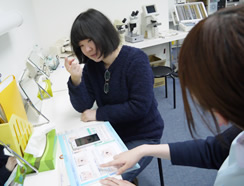 At our clinic, you can get suggestions until you find the lens which fits you. We attempt to fulfill patients' requests as much as possible (e.g.: Trying different types, powers or colours of lenses)
If you meet the following conditions, you are required to come 45minutes before the closing time.
・Using/would like to try astigmatism/bifocal/ hard contact lenses
・Trying contact lens for the first time
・Would like to try several lenses
You would not be able to buy lenses without prescription, so please allow yourself plenty of time.
We recommend patients to make appointments because the clinic might be crowded.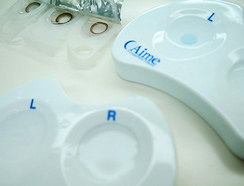 If you are not satisfied with the contact lens you bought, you can exchange it for the one with different parameter within 3 months, and also can return it within a month.
(This guarantee is only valid the contact lens bought at the adjacent shop.)
If your conventional lens is dameged, you can exchange it to new one for only one time within one year since you bought it. (You need more than a half piece of the lens.)
You can also change the parameter for once within the same period. (Please note that you need the new prescription for it.)
Conditions of guarantee differs depending on the lens. Please ask the staff for the details.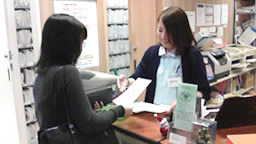 It is about a one-minute walk from JR Ikebukuro Station.
You can check into from 11:20 to 19:30 on weekdays and Saturdays, and from 11:20 to 18:30 on Sundays and public holidays.
Please feel free to come after work or while shopping.