Flow of Anti-VEGF Treatment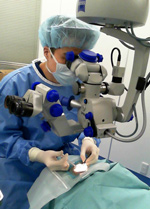 1Your ophthalmologist will clean your eye to prevent infection. The eye is numbed to reduce pain. ▼
2A small device may be placed on your eye to keep your eyelids out of the way. ▼
3Your ophthalmologist injects the drug through the white part of your eye using a very thin needle. ▼
4The injection only takes a few seconds. You usually do not see the needle itself. ▼
5Your ophthalmologist will decide how many treatments you need. You may need other types of treatment along with anti-VEGF treatment.
Side Effects
Some of the side effects that have been noted in patients receiving this medication include inflammation of the eye and increased intraocular pressure, both of these seen in less than 1 percent of users who utilize anti-VEGF therapy. Patients will typically present with pain within 24 hours of injection but symptoms will generally resolve spontaneously.
Benefits
In a study aimed at determining how effective anti-VEGF therapy for wet macular degeneration could actually be in a long-term study, participants were asked to continue therapy for 2 years and only come for therapy when new vessels were noted on eye examination. In this study, it was found that patients needed on average 8 visits during the first year but only 5 visits during the second year for anti-VEGF therapy. After 12 months and 24 months respectively, participants retain visual acuity of at least 15 letters in 97.5 and 95 percent of cases respectively.
Cost
Anti-VEGF therapy is covered by insurance; for one injection, approximately 40,000~50,000 yen. If you don't have health insurance, it will cost about 140,000~160,000 yen for one injection.