Examination
A few types of examination can be carried out to patients that suspected of dry eye, in order to measure the amount of tears or observe surface of your eyes by using test paper. None of these examinations are painful.
Amount examination
Schirmer's test
Schirmer's test determines whether the eye produces enough tears to keep it moist. This test is used when a person experiences very dry eyes or excessive watering of the eyes. It poses no risk to the subject. A negative (more than 10 mm of moisture on the filter paper in 5 minutes) test result is normal. Both eyes normally secrete the same amount of tears. We use anesthesia eye drop before test to prevent coming out tears by stimulating of inserting papers.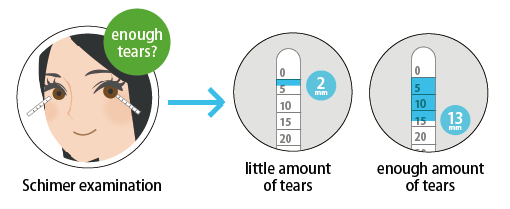 Tear meniscus test
Putting fluorescent dye in your eyes and observe your eye surface if there are enough amount of tear. This is one way of examination using property of tears that gather lower eyelid. In addition, this test is sometime carried out after inserting lacrimal plug to examine the amount of tears.

The lower part of these pictures, yellow-green part is dyed tear.
Quality examination
Tear Break Up Time test
Tear breakup time (TBUT) is a clinical test used to assess for evaporative dry eye disease. To measure TBUT, fluorescein is instilled into the patient's tear film and the patient is asked not to blink while the tear film is observed under a broad beam of cobalt blue illumination. The TBUT is recorded as the number of seconds that elapse between the last blink and the appearance of the first dry spot in the tear film, as seen in this progression of these slit lamps photos over time. A TBUT under 5 seconds is suspected dry eye.