Dry Eye Syndrome
Dry eye syndrome is a chronic lack of sufficient lubrication and moisture on the surface of the eye. You can experience dry eyes when eyes don't make enough tears or tears with the optimal chemical composition of the three layers of the eye, which are:
The outer oily layer The middle watery layer The mucin layer
Three of the layers are all crucial to lubricating, moistening and protecting the eye. If one of these 3 layers are deficient, it is referred to as "tear dysfunction syndrome", which is essentially dry eye syndrome.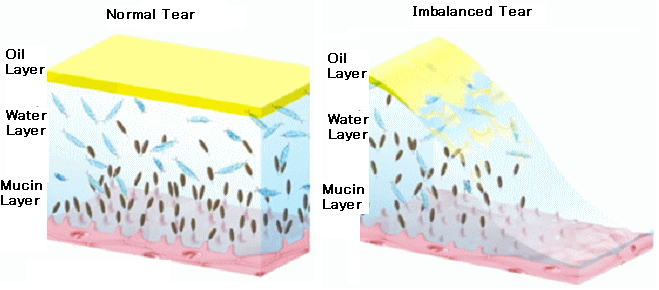 Symptoms
Persistent dryness, scratching and burning in your eyes are signs of dry eye syndrome. These symptoms alone may prompt your ophthalmologist to diagnose dry eye syndrome.
But sometimes your eye doctor may want to measure the amount of tears in your eyes. A thin strip of filter paper placed under the lower eyelid, called a Schirmer test, is one way to measure tear production.
Another symptom of dry eyes is a "foreign body sensation," the feeling that something is in the eye.
And it may seem odd, but sometimes watery eyes can result from dry eye syndrome, because the excessive dryness works to overstimulate production of the watery component of your eye's tears.
Treatments
Though dry eyes cannot be cured, there are a number of steps that can be taken to treat them. You should discuss treatment options with an ophthalmologist. Treatments for dry eyes may include:
1 Artificial tear drops and ointments.
The use of artificial teardrops is the primary treatment for dry eye. Artificial teardrops are available over the counter. No one drop works for everyone, so you might have to experiment to find the drop that works for you. If you have chronic dry eye, it is important to use the drops even when your eyes feel fine, to keep them lubricated. If your eyes dry out while you sleep, you can use a thicker lubricant, such as an ointment, at night.
2 Temporary punctal occlusion.
Sometimes it is necessary to close the ducts that drain tears out of the eye. This is first done via a painless test where a plug that will dissolve over a few days is inserted into the tear drain of the lower eyelid to determine whether permanent plugs can provide an adequate supply of tears.
3 Permanent punctal occlusion.
If temporary plugging of the tear drains works well, then silicone plugs (punctal occlusion) may be used. The plugs will hold tears around the eyes as long as they are in place. They can be removed. Rarely, the plugs may come out spontaneously or migrate down the tear drain. Many patients find that the plugs improve comfort and reduce the need for artificial tears.
4 Other medications.
Other medications, including topical steroids, may also be beneficial in some cases.
5 Surgery.
If needed, the ducts that drain tears into the nose can be permanently closed to allow more tears to remain around the eye. This is done with local anesthetic on an outpatient basis. There are no limitations in activity after having this surgery.
Keratoconus
Keratoconus is a progressive eye disease in which the normally round cornea thins and begins to bulge into a cone-like shape. This cone shape deflects light as it enters the eye on its way to the light-sensitive retina, causing distorted vision. Keratoconus can occur in one or both eyes and often begins during a person's teens or early 20s.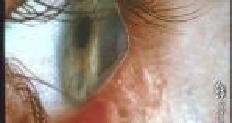 Picture of Keratoconus

Signs
1 Nearsightedness
2 Astigmatism
3 Blurred vision - even when wearing glasses and contact lenses
4 Glare at night
5 Light sensitivity
6 Frequent prescription changes in glasses and contact lenses
7 Eye rubbing

The first line of treatment for patients with keratoconus is to fit rigid gas permeable (RGP) contact lenses. Because this type of contact is not flexible, it creates a smooth, evenly shaped surface to see through. However, because of the cornea's irregular shape, these lenses can be very challenging to fit. This process often requires a great deal of time and patience.
When vision deteriorates to the point that contact lenses no longer provide satisfactory vision, corneal transplant may be necessary to replace the diseased cornea with a healthy one.