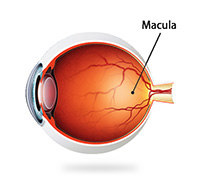 Diabetic eye disease refers to a group of eye problems that people with diabetes may face as a complication of diabetes. All can cause severe vision loss or even blindness. 
The affect of diabetic retinopathy on vision varies widely, depending on the stage of the disease. Some common symptoms of diabetic retinopathy are listed below, however, diabetes may cause other eye symptoms. 
1 Blurred vision (this is often linked to blood sugar levels) 
2 Floaters and flashes 
3 Sudden loss of vision 
During the first three stages of diabetic retinopathy, no treatment is needed, unless you have macular edema. To prevent progression of diabetic retinopathy, people with diabetes should control their levels of blood sugar, blood pressure, and blood cholesterol.