Uveitis is inflammation of a part of the eye called the uvea. The uvea (pronounced "You-Vay-Uh") is a layer of the eye made up of three parts. These are the iris, the ciliary body, and the choroid. Uveitis can occur in one eye or both eyes. Inflammation of the uvea may involve other parts of the eye, or any part of the eye, including the cornea (the clear, curved front of the eye), the sclera (the white outer part of the eye), the vitreous body, the retina and the optic nerve. 
Anterior uveitis is localized primarily to the anterior segment of the eye and includes iritis (inflammation in the anterior chamber alone) and iridocyclitis (inflammation in the anterior chamber and anterior vitreous).Intermediate uveitis (peripheral uveitis or chronic cyclitis) occurs in the vitreous.Posterior uveitis refers to any form of retinitis, choroiditis, or inflammation of the optic disk. Panuveitis (also called diffuse uveitis) implies inflammation in both the anterior and posterior chambers. 
Signs of Anterior Uveitis 
1 Sensitivity to light or glare. 
2 Pain, tenderness or redness in or around the eyes. 
3 Difficulty focusing on near or distant objects. 
Signs of Intermediate and Posterior Uveitis 
1 Blurred vision. 
2 Difficulty focusing on near or distant objects. 
3 Floaters.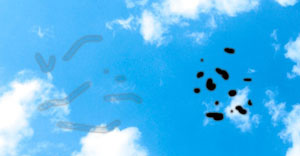 Treatment 
Treatment of uveitis will depend on the type of uveitis, how serious it is and the cause. Some cases will clear up with the use of eyedrops. Others may need steroid injections into the eye. The aim of treatment is to control the inflammation, relieve any pain, treat any underlying condition, and treat any complications that may cause visual loss.