Macular Hole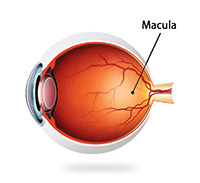 A macular hole is a small break in the macula, located in the center of the eye's light-sensitive tissue called the retina. The macula provides the sharp, central vision we need for reading, driving, and seeing fine detail. A macular hole can cause blurred and distorted central vision. Macular holes are related to aging and usually occur in people over age 60. 
Macular holes occur in three stages: 
Foveal detachments
 — about 50 percent worsen without treatment. 
Partial-thickness holes
 — about 70 percent worsen without treatment. 
Full-thickness holes
 — most worsen without treatment. 
Macular holes often begin gradually. In the early stage of a macular hole, people may notice a slight distortion or blurriness in their straight-ahead vision. Straight lines or objects can begin to look bent or wavy. Reading and performing other routine tasks with the affected eye become difficult. 
Macular holes are repaired with a vitrectomy. During the surgery, a gas bubble is placed in the eye. The bubble pushes on the macula when the patient looks down, and allows the hole to heal. After surgery, most patients must maintain a facedown position for 10 days to two weeks to allow the bubble to press against the macula, sealing the hole.